Sisyphus
Giving Up Is Not Allowed!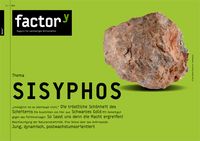 Where do we stand on the matter of sustainable development? If you ask sustainability activists and scientists, you often hear sobering facts and considerable disappointment concerning the achievements so far. In the 1990s, it started out enthusiastically as a compatible global project for fairness, but it seems as if only little of the original plan has been achieved. Only a few thousand companies in Germany are managed in accordance with the principles of sustainability, which means being economically, ecologically and socially fair; and the global situation is no different even though the latest assessment report of the Intergovernmental Panel on Climate Change (IPCC) states that only little time is left to keep global warming within the limit of the two degrees Celsius on average that are considered manageable.
Especially in allegedly developed countries like Germany, no great contribution has been made regarding measures against global warming. On the contrary: emissions are rising, lignite is beyond debate and fracking has gained acceptance. All that does not look like a lot of transformation is going on yet.
So it comes as no surprise that many a sustainability activist is frustrated and disappointed, whether at work or in their leisure time, since no large-scale measures are possible without supportive policies.
Therefore, our idea for the title of this issue of factory was Frustration & Failure. In the end we decided on Sisyphus – or Sisyphos in Greek – analogous to the omnipresent Sisyphean task. However, in the opening interview, Ernst Ulrich von Weizsäcker states that working hard on sustainability is not as futile as the Sisyphean task and he raises hope regarding enforceable policies. The philosopher Bernd Draser tries to comfort us with the beauty of failure, while the team of authors Ax, Hinterberger and Marschütz of the SERI Institute (Sustainable Europe Research Institute) in Vienna holds up the figures that won't allow us to give up. Isabell Zipfel tells a whole different story with her photo report about the mining of lignite, followed by Annette Jensen and Ute Scheub who describe happy islands that could have what it takes to be continents capable of surviving. In his article about climate policy, Hans-Jochen Luhmann deals with contradictions and makes suggestions as to what could be achieved. The philosophical economist Birger Priddat takes a completely different approach in his quasi-manifesto for the Anthropocene: the approach of the technologically accelerated development of the domination of nature.
The young scientist Benjamin Best has the last word with his hopeful view on his increasingly post-growth orientated generation. So it is only a matter of perspective? Or even of historical perspective? We recommend Ernst Ulrich von Weizsäcker as an example. On 25 June 2014 he celebrated his 75th birthday and despite the current political stagnancy, he does not get tired of introducing a reform for a resource tax as a possible efficiency revolution. We sincerely congratulate him and wish you all fresh motivation and a great summer.
Ralf Bindel und the factory team
Translated from the German by: Annika Wagener
More articles on the topic of frustration & failure and sustainability are either online or in our factory Magazine Sisyphus. Fine illustrated and good readable on tablet computers and screens the PDF magazine contains all articles and pictures with numbers and citations to topic and is free to download.